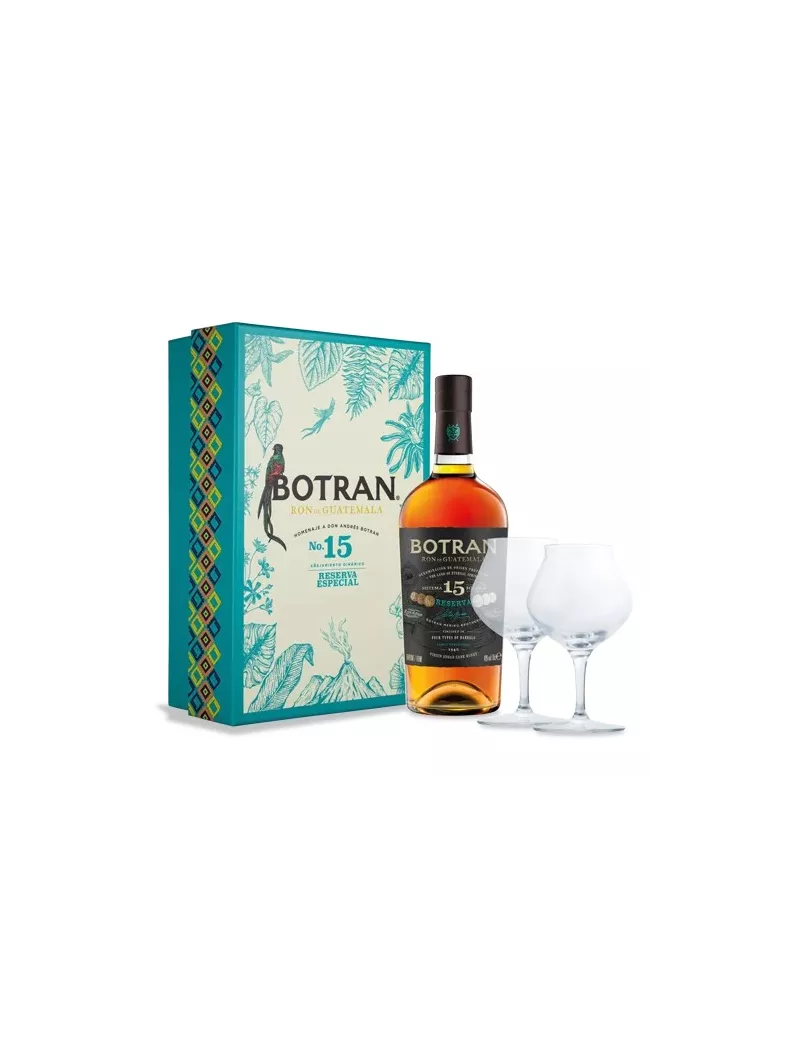  
Botran 15 ans coffret 2 verres - 40%
Botran 15 Year Old is a magnificent rum from Guatemala. It is the result of a blend of rums aged using the Solera method and crafted from fresh sugarcane juice. It has been refined in four types of casks: Bourbon, re-charred Bourbon, Sherry, and Porto.
Tasting this rum is a true gustatory experience. On the nose, woody notes rise, followed by vanilla and a hint of dried fruits. On the palate, gentle spices and hints of tobacco unfold. The finish is characterized by woody aromas and a tannic effect.
This rum offers an impressive aromatic palette.
Nose: Woody, Vanilla, Fruity
Palate: Smooth, Spicy, Fruity
Finish: Woody, Tannic
THE BRAND


The BOTRAN family have been making sugar cane brandy since 1939, and they are the origin of the country's designation of origin. Their plantations are located in the south of the country on volcanic and tropical soils.  BOTRAN rums have the particularity of being made from virgin sugar cane honey. This honey is made from fresh cane juice which is filtered and clarified then heated and concentrated under vacuum to preserve all the aromatic qualities. For fermentations, they also take special care, especially with a special pineapple-based yeast. After distillation, the rums are reduced with pure water from the Guatemalan mountains. Aging in different types of barrels according to the Solera method and in a tropical climate brings out complex and expressive rums.