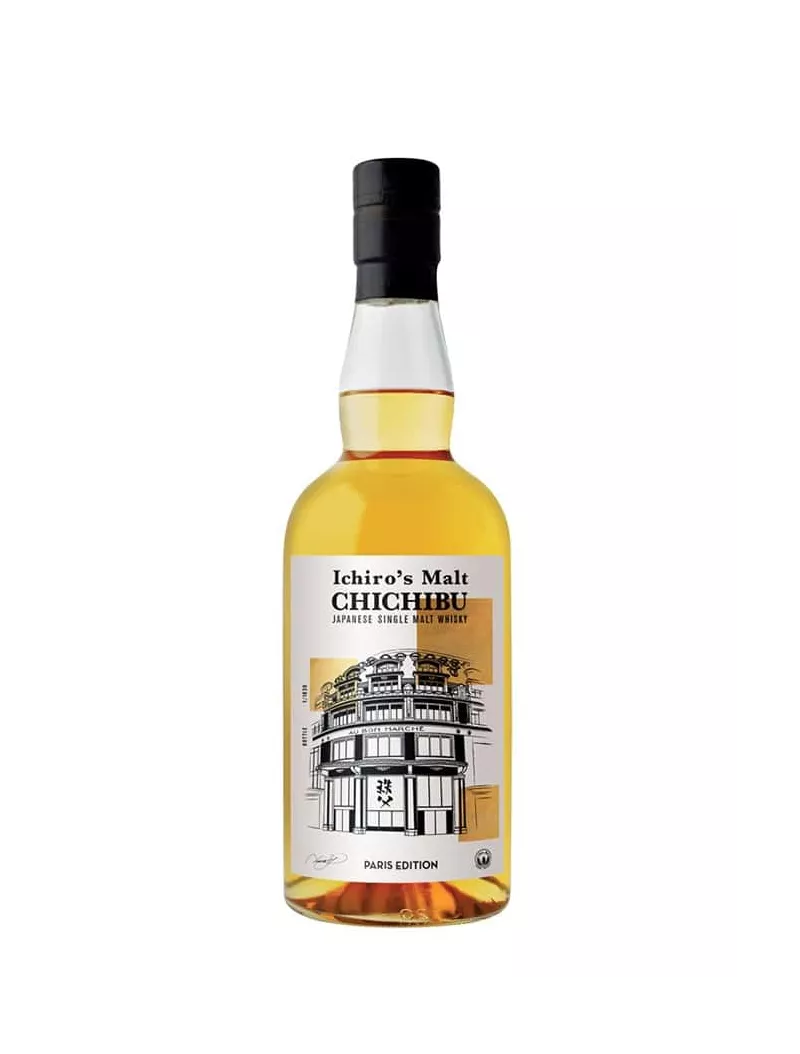  
CHICHIBU Paris Edition 2023 49.5%
Immerse yourself in Parisian history with Chichibu Paris Edition 2023, an exceptional blend crafted by Ichiro Akuto and dedicated to the iconic department stores of the 19th century. Inspired by the glass roofs, wrought ironwork, and elaborate facades of the era, five label versions represent these landmarks of commerce and architecture.
This whisky is the result of blending Chichibu aged in bourbon barrels, quarter casks (chibidaru), and hogsheads aged five to seven years, made from various barley varieties, including some malted manually. Paris Edition 2023 shines with harmony, offering fruity intensity, a subtle medicinal touch, and remarkable freshness.
Note: Each bottle is randomly assigned.
Nose: Refined and balanced, an elegant peat intertwines with notes of white fruits (pear, apple), aromatic herbs (sage, tarragon), and green almond. Upon aeration, medicinal, vanilla, and herbaceous nuances (cut hay) enrich the aromatic palette.
Appearance: Deep gold.
Palate: Lively and balanced, an oily peat dominates the initial taste. The mid-palate, green and lemony, reveals fruity (Williams pear) and menthol notes.
Finish: Long and delicate, reminiscent of a key lime and basil tart, with hints of barley sugar, agave honey, coconut milk, and a peat with licorice and chocolate nuances in the aftertaste.
THE BRAND
Born in 2008, the Japanese single malt whisky Chichibu has already captured the hearts of Japanese whisky enthusiasts and discerning whisky connoisseurs alike. Produced entirely in its distillery, and soon incorporating local ingredients such as barley, peat, and even Japanese oak for certain expressions, Chichibu is poised to become the first 100% Japanese whisky, thanks to the vision of its creator, Ichiro Akuto. Fermented in mizunara casks (a highly prized variety of Japanese oak for whisky) and distilled in small stills, this liquid surprises with its maturity and complexity, even at a young age. A true artisanal masterpiece.
Data sheet
Pays

Japan

Région

Honshu

Marques

CHICHIBU

Type

Whisky

Sous-type

Single Malt

Tourbé

Peu tourbé

Volume

70cl

Degré

52,8%

Packaging

Etui

Prix

Plus de 120 €