 
ISLE OF RAASAY Lightly Peated 46%
Isle of Raasay Lightly Peated (R01) single malt is made from two distillates, one peated, the other unpeated. l'Isle of Raasay is a feat of assembly. Both whiskies aged in three different types of casks, rye whisky, Chinkapin oak, and Bordeaux wine. The fruit of this blend is a lightly peated single malt (15-20 ppm), with real complexity, depth of character and elegance.
Limited Editon. 
Nose : Opening with notes of caramel and honey, then the red fruits accompanied by a hint of ginger, loaded with smoke.
Mouth : Spicy that evolves into notes of raisins with cinnamon then sandalwood and iodine.  
Final : Gourmet, caramelized and peaty.
Separate aging for the two whiskeys before blending: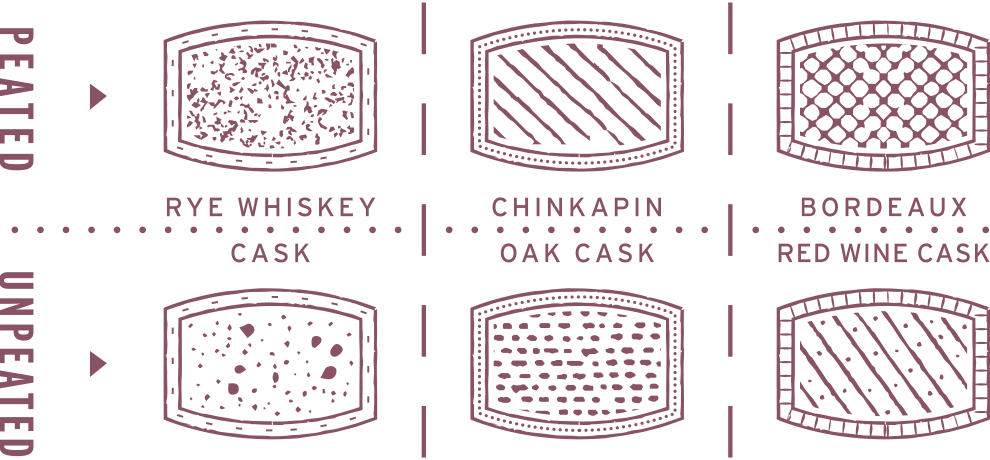 THE BRAND
The Isle of Raasay, situated between the Isle of Skye and the Scottish Northwest coast, has a population of only 120 people, who saw the birth of the island's very first legal distillery in 2017.  
The Raasay distillery launched its first bottling in 2020, with its single Malt inaugural release, with a production capacity limited to 188,000 liters of pure alcohol per year, and stills of 5,000 and 3,600 liters.  
This distillery, already looking to the future, has approached a local farmer, with a project to grow barley on the island, which will be a first, with the aim of launching in 2021, its core range ... 
Very beautiful stories and magnificent "collector" bottles to come. 

Data sheet
Pays

Scotland

Région

Islay

Marques

Type

Whisky

Sous-type

Single Malt

Maison de Négoce

Embouteilleur Officiel

Tourbé

Peu tourbé

Volume

70cl

Degré

Packaging

Etui

Style

Tourbé