 
DASSAI 45 Junmai Daiginjo 16%
The Dassai 45 sake presents a superb sweetness, rich structure, it represents the excellence of this brand. The rice used is of the highest quality of the sake rice, and polished to reach 45% of its original volume. It pairs perfectly with all kinds of dishes including white meats, poultry and has a very fruity profile.
Nose : Very fruity, on white, green and exotic fruits.
Palate : Note of puffed rice, watermelon and chestnut.
Finish : Fresh with a slightly acid, apricot note.
THE BRAND
Dassai sake is produced by the Japanese brewery Asahi Shuzo. It has a very high-tech production tool which polished the rice to 23% of its original weight, allowing it to produce top-class sakes such as dai-ginjo. Already very influential in Japan, it is on it's way to becoming a very popular international brand.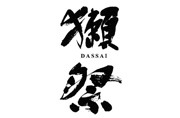 Data sheet
Pays

Japan

Région

Honshu

Marques

DASSAI / YAMAGUCHI

Type

Saké

Volume

72 cl

Degré

16%

Packaging

Sans