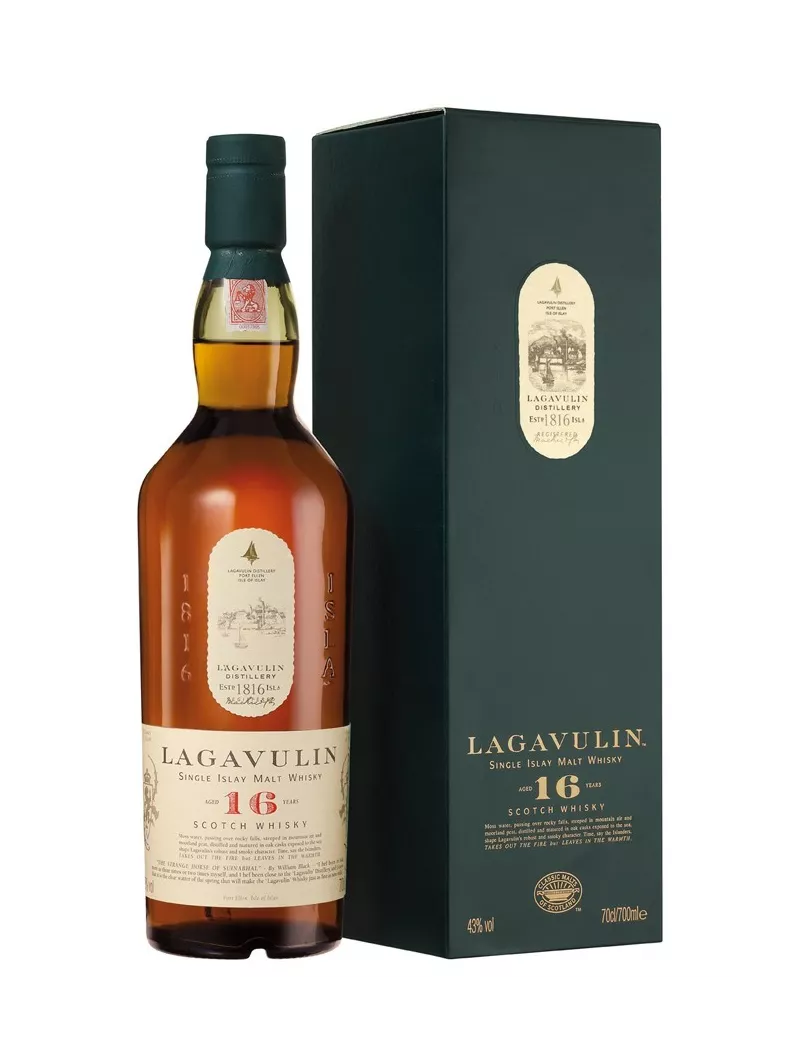  
LAGAVULIN 16-year-old 43%
Perhaps the best ambassador of single malts on the island of Islay, Lagavulin 16 is characterized by a subtle and delicate nose but with an incredible punch. The peaty and iodine notes reveal incredible depth. Complex but creamy, it delivers oily notes of grilled bacon and ends with a delicious smoky touch. Classic but essential...
For those who love the very phenolic, peaty and iodized whiskies of Islay, Lagavulin is the primus inter pares, although it must be admitted that Ardbeg does not come far behind. Composed of malted barley on the malting areas near Port Ellen (also owned by the Diageo group), Lagavulin is distilled in an exceptionally slow manner. A process that, according to its makers, gives the spirit its characteristic roundness and sweet notes.
It is clear that these give their whiskies time to age, the standard bottle of the Classic Malts range being 16 years old. It is said that Johnny Depp, the actor who never drinks alcohol, willingly orders a glass of Lagavulin for the simple pleasure of feeling its aroma so particular (the story does not say who must then devote himself to drink it). Michael Jackson described it as a mixture of "Lapsang Souchong tea and fruity sherry". Tempting, right?
Although there is a more expensive Distiller's Edition version with a barrel finish by Pedro Ximenez and a younger version, curiously very powerful and surprisingly more expensive, opt for this one. Marvel at its rich texture, let yourself be surprised by its intense flavors and sit down before you start drinking because it is a rather strong whisky.
Nose: Intense, with a strong oaky and smoky taste. 
Taste: Sweet notes of dried fruits, with a cloud of smoke and powerful malted barley flavours.
Finish: Long, elegant, peaty.
THE BRAND
Lagavulin was the first distillery to produce whisky on the island of Islay. Located east of Port Ellen where its malted barley comes from, it produces a peated single malt in the purest tradition of the island. Smoky, maritime and finally woody, the character of Lagavulin has become a real ambassador of Islay malts.

Data sheet
Pays

Scotland

Région

Islay

Marques

LAGAVULIN

Type

Whisky

Sous-type

Single Malt

Distillerie

LAGAVULIN

Maison de Négoce

Embouteilleur Officiel

Tourbé

Très tourbé

Volume

70cl

Packaging

Etui

Prix

De 40 € à 80 €
You might also like
whiskies
LAGAVULIN 8-year-old 48%
Lagavulin 8-year-old is a very peaty single malt created by the Lagavulin distillery. It was made...