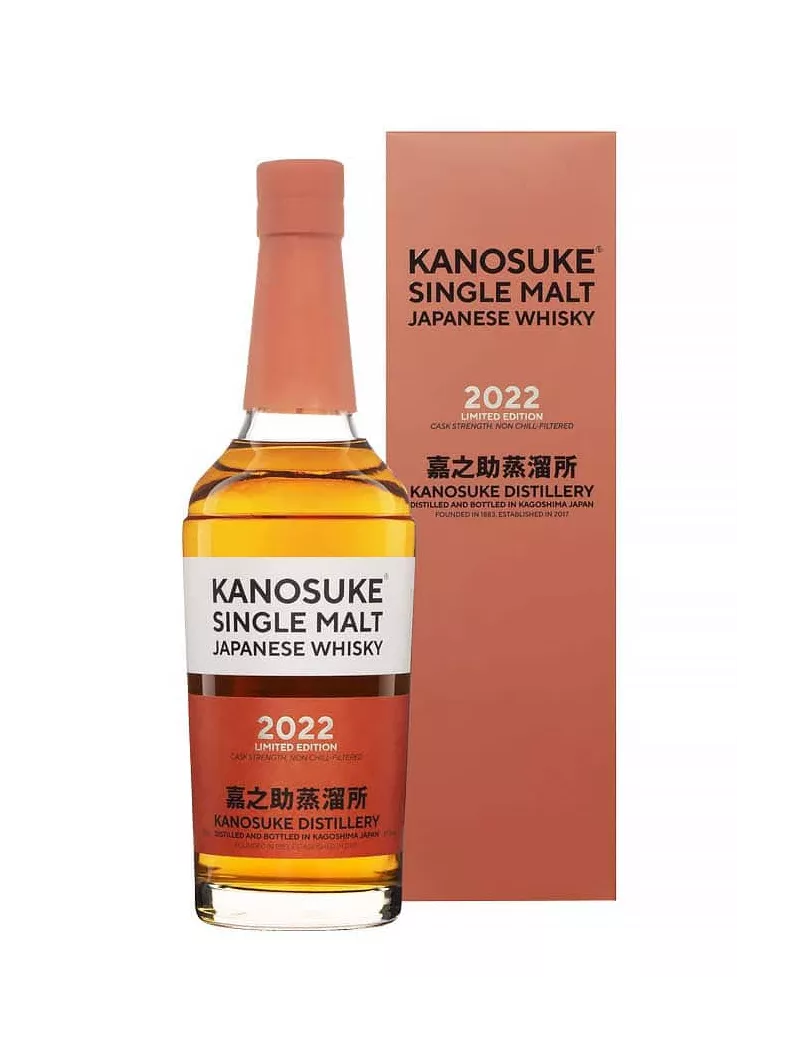  
KANOSUKE 2022 Cask Strength
Kanosuke Single Malt 2022, the distillery's third limited edition, is a rich, fruity, and spicy Japanese whisky. Distilled between 2017 and 2019 in the distillery's three stills, it is aged in various oak casks, predominantly sherry casks.
This single malt exhibits a complex nose with notes of lemon tea, honey, tangy umeboshi plum, and a hint of rose. On the palate, cinnamon spices intertwine with fruity flavors of dried berries and cherry, complemented by a subtle bitterness of chocolate and coffee candy. The finish is spicy, providing a pleasant lingering sensation, courtesy of the sherry casks.
Appearance: A glowing amber hue, inviting for tasting.
Nose: The complex balance between the freshness of lemon tea, the floral elegance of honey and roses, the acidity and salinity of umeboshi plum, and the subtle liveliness of Japanese nikki cinnamon creates a captivating olfactory experience.
Palate: The pleasant fruitiness of dried red berries, such as American cherries, harmoniously unfolds, supported by a well-defined structure and the subtle bitterness of chocolate and coffee candy. Flavors intensify, accompanied by a touch of noble woodiness.
Finish: The sherry casks deliver a lingering finish where spicy notes blend with a pleasing bittersweetness, extending the gratifying taste experience.
THE BRAND
The Kanosuke distillery is the result of a magnificent project by Komasa Jyoso company. With centuries of experience in crafting traditional beverages, including their famous shochu, Komasa Jyoso decided to further engage in preserving and promoting their customs and craftsmanship. Thus, the Kanosuke distillery was inaugurated in 2018 in Kagoshima prefecture, offering a breathtaking view of the magnificent Fukiagehama beach.
The choice of this location was not merely for aesthetic reasons. The region's temperate climate is ideal for whisky aging, and the strong winds from the eastern China sea that sweep through the area during winter bring a unique influence to the whisky casks. Furthermore, the distillery has access to exceptionally pure water sources, a valuable asset for their whisky production.
Kanosuke is a distillery to closely watch, as it is destined to give birth to nationally renowned emblematic treasures. It is a brand that combines tradition, craftsmanship, and unique natural conditions to create exceptional whiskies.



Data sheet
Pays

Japan

Région

Kagoshima

Marques

KANOSUKE

Type

Whisky

Sous-type

Single Malt

Millésime

2022

Volume

70cl

Degré

59%