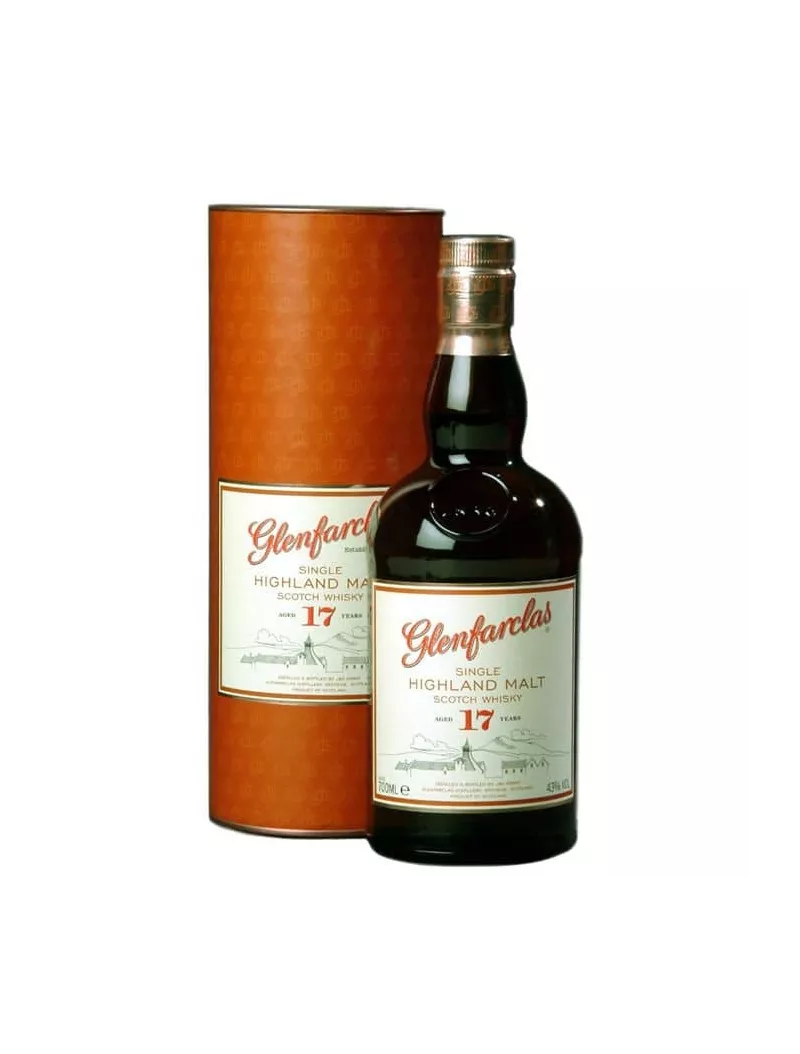  
GLENFARCLAS 17 ans 43%
Le moins qu'on puisse dire avec ce Glenfarclas 17 ans, c'est qu'il est difficile à dénicher en France. Sa texture huileuse et ses notes fruitées offre une belle alternative à la puissance du 15 ans et la finesse du 21 ans.
Nez :  Complexe avec des notes de fruits confits, caramel, et une subtile fumée de tourbe.
Bouche : Ronde et équilibrée avec des notes maltées, de xérès, et la fumée de tourbe;
Finale : Longue et souple avec des notes de pain d'épice.
LA
 MARQUE
La distillerie Glenfarclas existe depuis 1865. Elle fait partie des dernières distilleries familiales d'Ecosse . Gérée par la famille Grant's of Glenfarclas depuis 150 ans. Pour des raisons économiques et stratégiques, ils ont su constituer des stocks au fil des ans pour, aujourd'hui alimenter leur fameuse collection The Family cask. La distillerie se situe au pied du Ben Rinnes en Ecosse., loin sur des pentes couvertes de bruyère, alimentée par une source cristalline jaillissant du granit. Les jus sont distillés deux fois dans des alambics traditionnels à feu direct. Les fûts ex xérès oloroso sont sélectionnés directement en Espagne . Les méthodes utilisées restent artisanales et sont transmises au fil des années.

Data sheet
Pays

Scotland

Région

Speyside

Marques

GLENFARCLAS

Type

Whisky

Sous-type

Single Malt

Distillerie

GLENFARCLAS

Maison de Négoce

Embouteilleur Officiel

Volume

70cl

Packaging

Tube

Prix

De 80 € à 120 €

Style