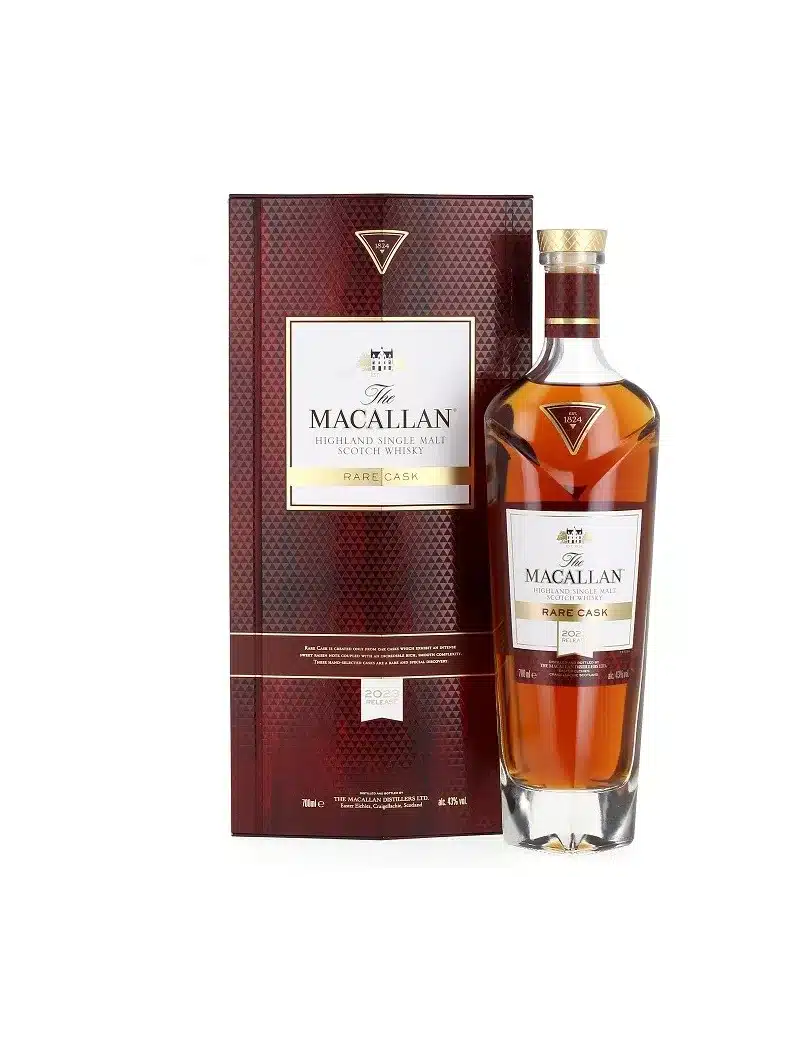  
MACALLAN Rare Cask - Release 2023 43%
Macallan Rare Cask Release 2023, is a prestigious edition of the brand that showcases the science and manufacturing complexity that characterizes it. This exceptional single malt is made from the rarest sherry-dried casks. In a quest for the extraordinary, this single malt invites us on a journey accompanied throughout its tasting by sweet aromas of vanilla, rich raisins, a fusion of fresh apple. It offers an experience that will leave a lasting and fabulous impression on us. The making of whiskey is an art that Macallan masters perfectly well. 
Nose : Rich with sweet notes of vanilla, fresh apple, raisins, citrus and oranges. 
Palate : Intense with an strong presence of sweet grapes, then vanilla, dark chocolate and citrus zest. 
Finish : Long, rich and smooth.
THE BRAND
The Macallan Distillery was founded in 1824 by Alexander Reid, a barley farmer and schoolteacher, on a plateau above the River Spey in Speyside, North East Scotland. The original name of this area until 1400, was "Maghellan", taken from the Gallic word "magh" meaning fertile land and "Ellan" from the monk St. Macallan Estae. Farmers have been making whiskies on Speyside farms in this region for centuries, using the surplus barley during the quieter winter months. Today The Macallan's reputation is based on a product of exceptional quality and distinctiveness, founded with a set of guiding principles : place, people and passion. For each edition, the quality of the whisky largely depends on the oak barrels in which it is matured. This distillery carefully selects the best spirit from the stills. Only 16% is kept, creating a rich and concentrated distillate, making it one of the best in the industry.
Data sheet
Pays

Scotland

Région

Speyside

Marques

Type

Whisky

Sous-type

Single Malt

Distillerie

Maison de Négoce

Embouteilleur Officiel

Millésime

2023

Volume

70cl

Degré

43%

Packaging

Coffret

Style