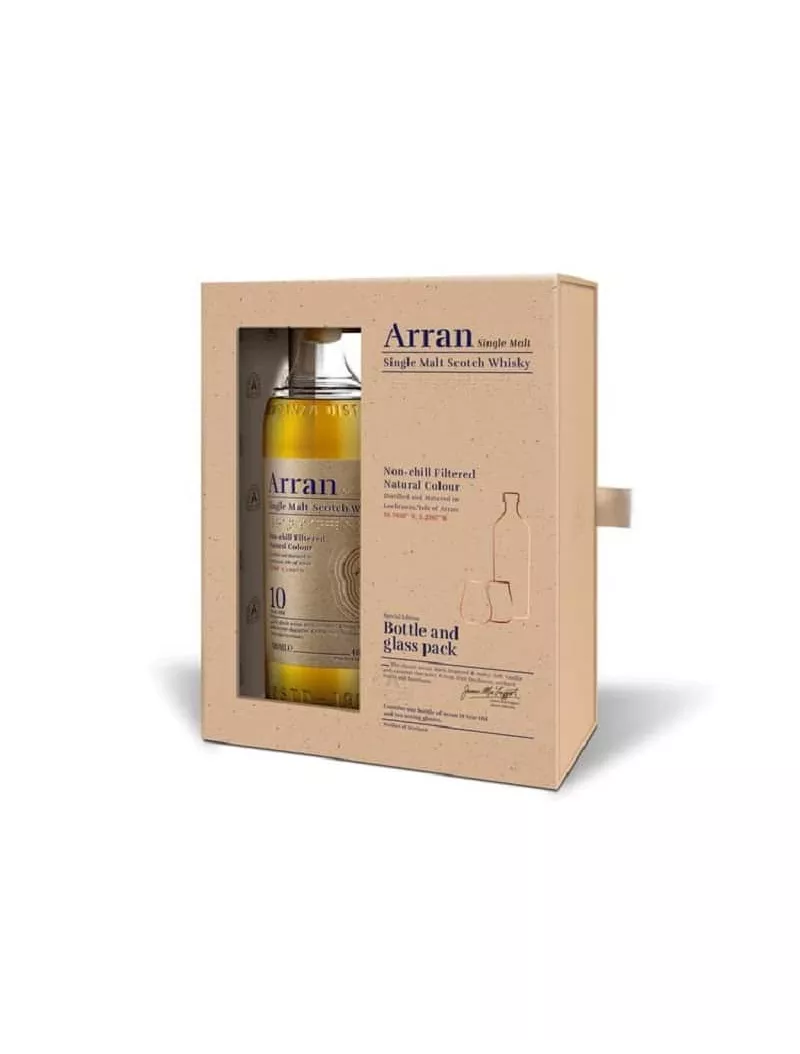  
ARRAN 10-year-old - Gift Box With 2 Glasses 46%
Arran 10-year-old is a single malt that was launched in 2006 by the Arran distillery, this whisky's reputation is already well established, and it today considered the flagship whisky of this distillery.
Non-chill filtered and without colouring, Arran 10 years is the result of a blend of malts aged in bourbon barrels for 60% and sherry for 40%, thus giving birth to a single malt full and creamy to perfection, with notes vanilla and spicy, which will delight lovers of full-bodied malts.
This set consists of a bottle of Arran 10-year-old whisky with two magnificent tasting glasses. 
Nose : Light. A real confectionery: mint candies and salted butter caramel.
Palate : Fairly robust, notes of cinnamon blended with flavours of melons and candies.
Finish : Rather long, it remains rich and sweet. Vanilla softens the spices.
THE BRAND
Arran, distinguished by its refinements in a wide variety of barrels that have contained wine (from Champagne, Margaux or Marsala), but also eaux-de-vie (cognac, calvados). The distillery also has the particularity of producing whisky made from forgotten barley varieties, as well as a series of vintage single casks often bottled in the cask. Produced on an island to the west of the Scottish mainland, its style resembles that of a Highland whisky.