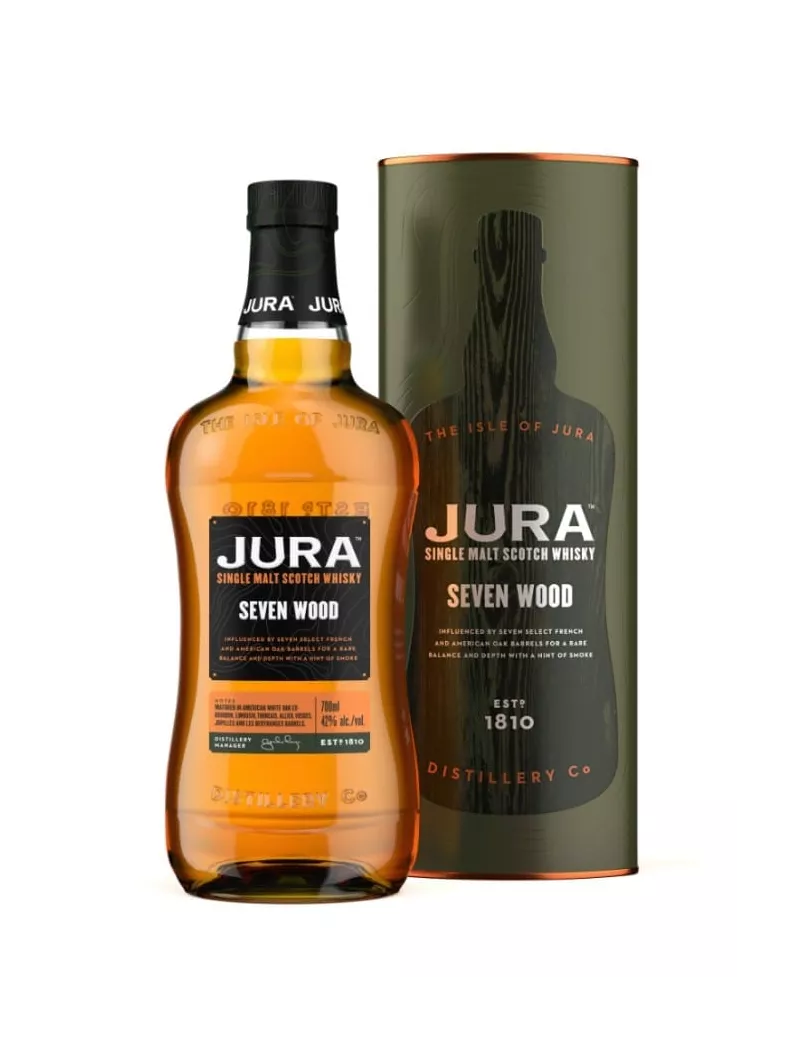  
JURA Seven Wood 42%
Jura Seven Wood is a single malt made from peated and unpeated whiskies. This complex whisky comes from the assembly of seven oak barrels from different origins: America, Allier, Limousin, Tronçais, Bertranges, Vosges and Jupilles.
Through this expression, Jura demonstrates the importance of maturation on the balance and depth of a whisky. The latter makes us discover Jura in a completely different register, much more wooded. Despite this, it retains all the olfactory and taste qualities that make the brand famous. 
Nose: Notes of coffee and ginger, punctuated with a hint of chocolate.
Palate: Caramelised peaches, notes of liquorice and candied oranges, a hint of sea spray and smoke.
Finish: Woody notes return on the finish. 
THE BRAND
Located in the west of Scotland, the Jura distillery was built in 1810 before falling into disrepair. It was only in 1950 that it saw the light of day again thanks to the inhabitants of Jura who decided to rebuild the distillery on the same site. It opened in 1963 and is now an undeniable asset in the development of the island. The brand produces both sweet, smoked and peated whiskies. Jura stands out from the competition for the quality of its whiskies. 
Data sheet
Pays

Scotland

Région

Jura

Marques

JURA

Type

Whisky

Sous-type

Single Malt

Distillerie

JURA

Maison de Négoce

Embouteilleur Officiel

Volume

70cl

Packaging

Etui

Prix

De 40 € à 80 €
You might also like
monwhiskyfr
JURA 10-year-old 40%
Jura 10-year-old, this edition symbolises the rebirth of the Jura distillery. Adorned with the...
whiskies
JURA 18-year-old 44%
Jura 18-year-old, this edition is the result of a long maturation of 18 years in ex-bourbon...