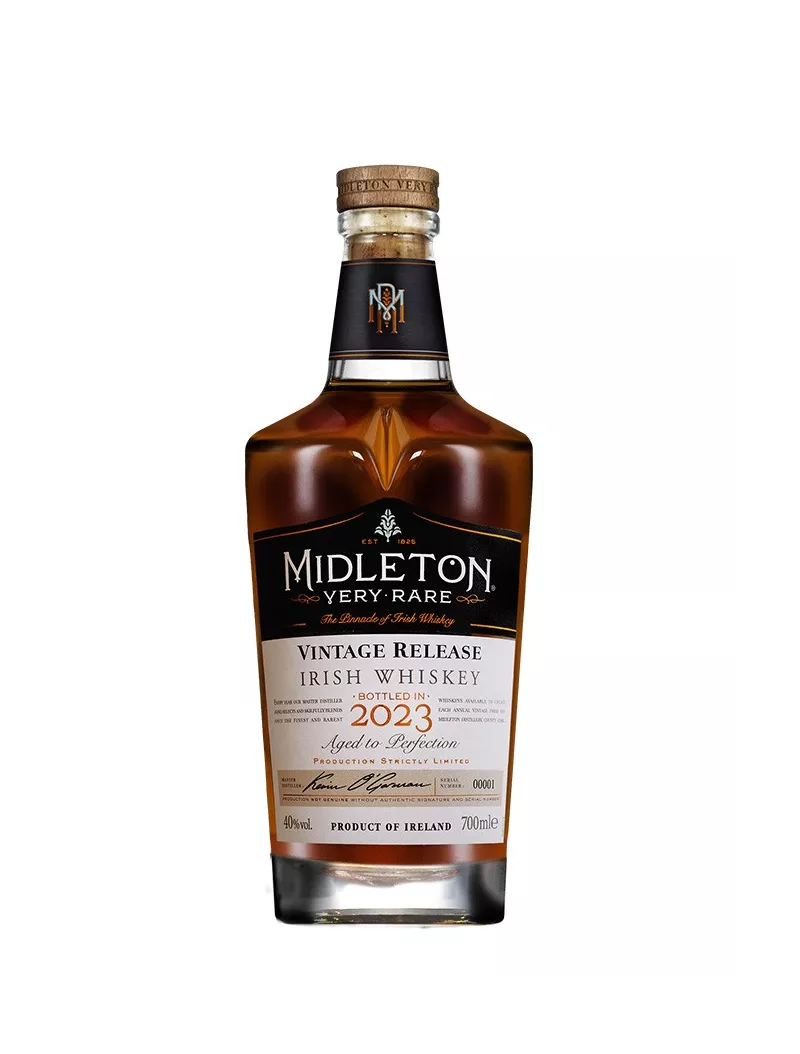  
MIDLETON Very Rare Vintage Release 2023 40%
In 1984, Irish master distiller Barry Crockett had the idea of creating an exceptional whiskey by selecting and blending the best casks from the Midleton distillery. Since then, every year, a new rare and vintage cuvée called Very Rare is born. Quintessence of Irish whiskey, each bottle of this 2023 edition has been numbered and signed manually by master distiller Kevin O'Gorman. Still incredibly complex and delicate, this 40th vintage is a magnificent success.
Bottle sold in a wooden box - very limited quantity.
Nose: Complex and aromatic. The nose opens with a complex blend of fruits, including nectarines, ripe melon, green apple, and apricot. Spices come into play with freshly peeled ginger and crushed peppercorns, accompanied by floral notes of dried flowers. The influence of the casks emerges with hints of vanilla, honey, and freshly roasted coffee beans.
Palate: Seductive and rounded. Fresh fruits and a vegetal note reminiscent of chamomile come forward at first. Then, the unique spices derived from Pot Still distillation add depth, complemented by the notes from the casks, particularly charred oak, which continue to develop. The experience concludes with lingering omnipresent fruits, hints of candied orange, and dried apricots.
Final: Spicy and fruity. The fruits and spices continue to crescendo before making way for the final word from the oak tannins.
THE BRAND


Founded in 1825 by the Murphy family in Cork, Ireland, the Midleton distillery has evolved to become part of the Irish Distillers Group, which was created through the merger of John Power, John Jameson, and Cork Distilleries. In 1975, a new distillery was built alongside the old one. In 1984, the Midleton Very Rare range was launched, featuring only 50 selected casks. Now a subsidiary of the Pernod-Ricard group, the distillery produces famous whiskey brands such as Jameson, Power, Tullamore Dew, Redbreast, Green Spot, Yellow Spot, and Paddy.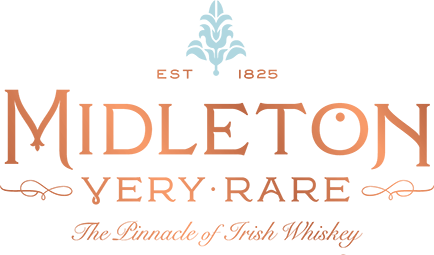 Data sheet
Pays

Ireland

Région

Cork Cty

Marques

MIDLETON

Type

Whisky

Maison de Négoce

Embouteilleur Officiel

Volume

70cl

Degré

40%

Packaging

Coffret Bois

Style

Non Tourbé