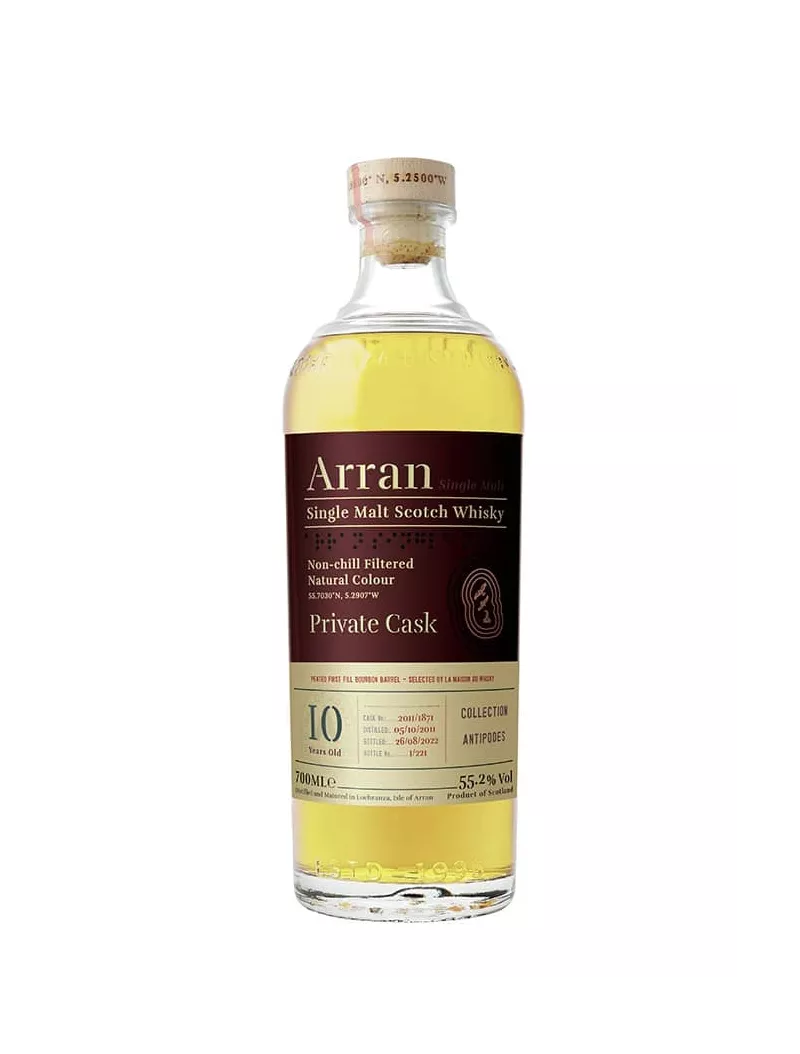  
ARRAN 10-year-old - 2011 Peated First-Fill Bourbon Barrel Single Cask Antipodes 55,20%
ARRAN 10-year-old 2011 invites us to discover a peat with many faces. It unfolds its aromatic palette, sometimes empyreumatic, charcoal, saline, minty with fruity, herbaceous and lemony accents. This beautiful single malt does not give up anything and has this particular character of the distillery.
Baptized Machrie Moor, the first peated version of the single malt produced by the Arran distillery was born in 2009. More recently, on March 14, 2019, the first "new make" came out of the stills of the brand new Lagg distillery located in the south of the island. Belonging to the same owners, it will be exclusively dedicated to the production of a peated single malt.
Nose: Powerful, peaty, fruity with pear, cut grass, then lemony, medicinal and camphor aromas.
Palate: Lively, peat imbued with empyreumatic flavors, candied lemons, malted barley.
Finish: Long and lively, rooty, with this saline tip.
THE BRAND
Arran, distinguished by its refinements in a wide variety of barrels that have contained wine (from Champagne, Margaux or Marsala), but also eaux-de-vie (cognac, calvados). The distillery also has the particularity of producing whisky made from forgotten barley varieties, as well as a series of vintage single casks often bottled in the cask. Produced on an island to the west of the Scottish mainland, its style resembles that of a Highland whisky.