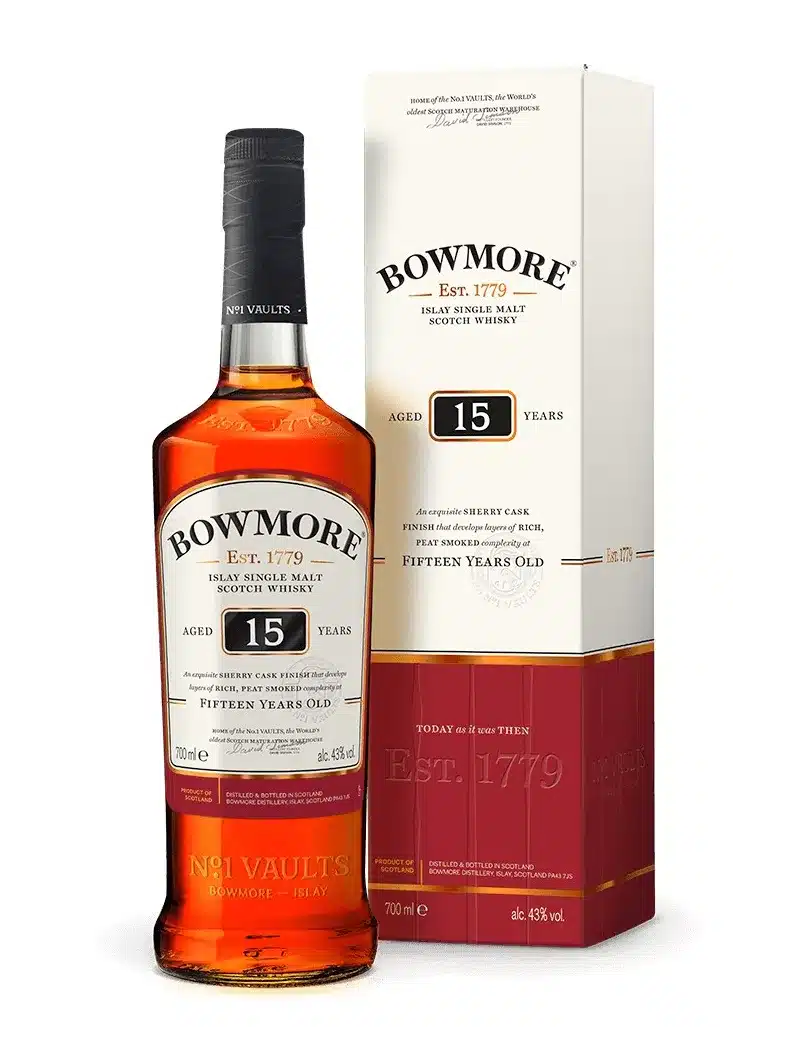  
BOWMORE 15 ans 43%
Bowmore 15-year-old , was first aged in bourbon casks. It then spent its last three years in Oloroso sherry casks, giving it a rich and deep color. Rich raisins and sweet smoke set the stage for a chocolatey delight.
This single malt has won numerous international awards including the gold medal at the International Wine and Spirits Awards 2018, the double gold medal at the San Fransisco World Competition 2018 and the gold medal at the Spirits Challenge 2017. It is one of the finest peated whiskies with a pronounced sherry note.  
Nose : Peat with smoky notes, then sherry, followed by dark chocolate, cold tobacco and smoked seaweed. 
Palate : Peat, then cold tobacco, leather, the sherry peat mixture leaves its mark. 
Finish : Long, with spicy notes, toffee, sherry and barley. 
THE BRAND
Founded in 1779, Bowmore is the oldest distillery on the Isle of Islay, Scotland. With over 240 years of experience, the brand is recognised for its know-how and the artisanal production of its malts. The location of the distillery on the seafront gives its whiskies a marine character. The brand increasingly uses sherry and port casks, bringing notes of dried fruit (nuts, almonds, figs, grapes), cooked fruit, cocoa or chocolate to its whiskies. Bowmore whiskies are both complex and balanced.