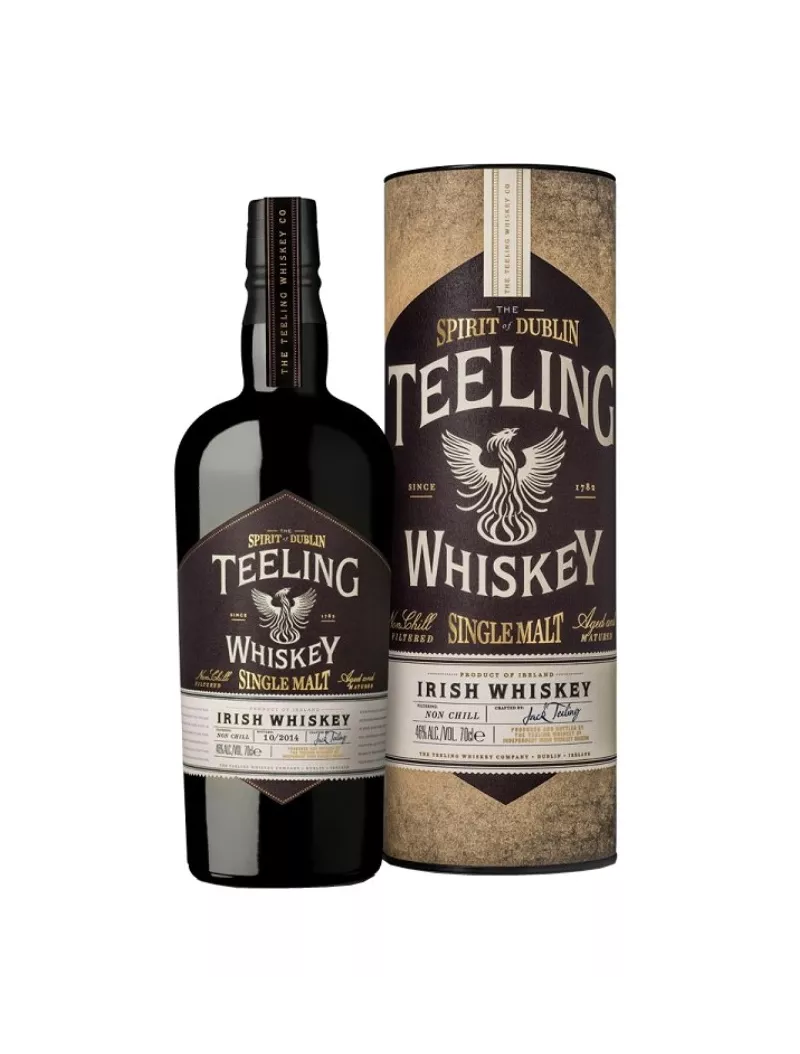  
TEELING Single Malt 46% 70 cl
Teeling Single Malt is an Irish whiskey made from 5 different types of casks (sherry, port, Madeira, white burgundy and cabernet sauvignon). Bottled without cold filtering, this single malt has a creamy texture and unparalleled fruity flavours...
Teeling Single Malt is the third edition of the distillery's Irish whiskeys to be produced from malted barley from a range of whisky of different ages, including malt whiskies distilled in 1991. Produced thanks to innovative techniques combined with great know-how, this Irish single malt has the finesse of the greatest whiskies in Ireland. It comes from a blend of 5 different wine barrels (Sherry, Porto, Madeira, Burgundy White and Cabernet Sauvignon) and was bottled at 46% vol. without cold filtration so as to preserve intact all the natural flavours of the whisky.
Colour: Amber gold.
Nose: Lively and fruity, with nice notes of melon, figs, toffee and lemon.
Taste: Rich and greedy with a nice balance between dried fruits and citrus. It evolves on vanilla, spices and cloves.
Finish: Long and slightly dry marked by wood tannins.
THE BRAND
This Irish whiskey is the fruit of the blend of malt and grain, having aged several years in traditional barrels before being matured for several months in Nicaragua rum barrels, Jack Teeling's favorite. The result proves that whiskey and rum go hand in hand, bringing a gourmet dimension to the traditional Irish character.
Teeling Whiskey produces high-end whiskeys, within its beautiful and prestigious distillery located in Dublin and possessing considerable stocks of whiskey from their old distillery.
Data sheet
Pays

Ireland

Région

Dublin

Marques

TEELING

Type

Whisky

Sous-type

Single Malt

Distillerie

TEELING

Maison de Négoce

Embouteilleur Officiel

Volume

70cl

Packaging

Etui

Prix

De 40 € à 80 €
You might also like
whiskies
Teeling Small Batch 46%
Teeling Small Batch Blended is an Irish whiskey made in small cuvée (small batch) and aged in...