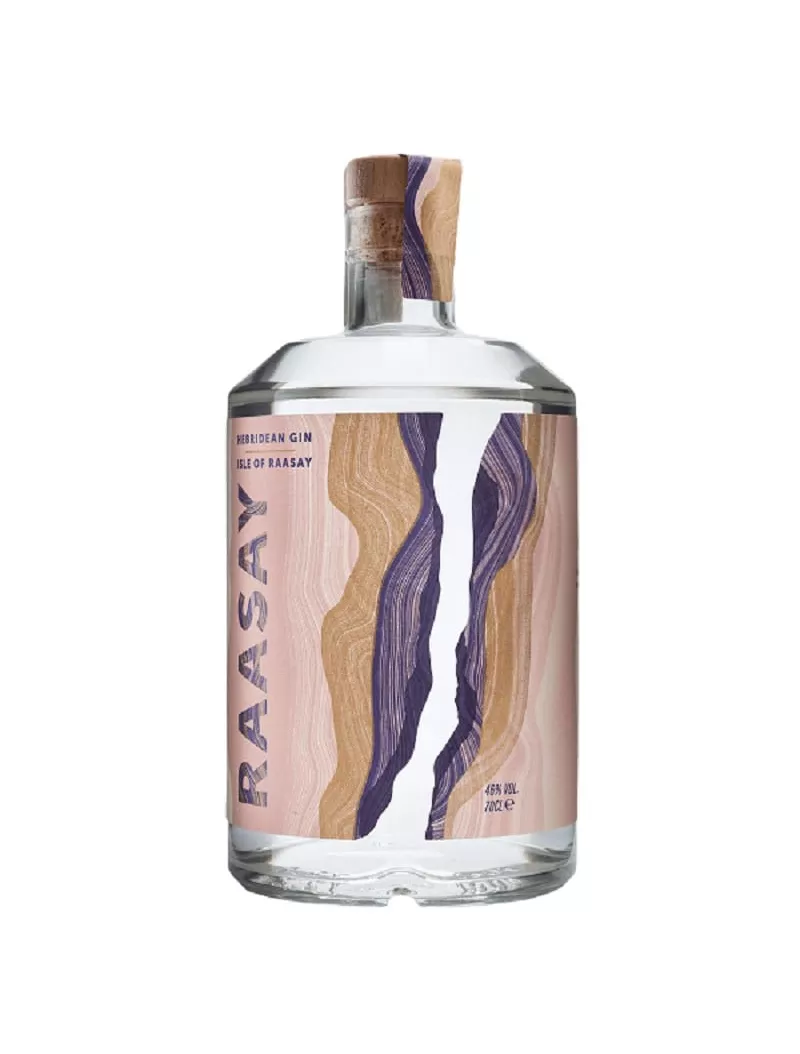  
ISLE OF RAASAY Hebridean Gin 46%
Ce Gin artisanal des Hébrides écossaises combine dix plantes soigneusement choisies dont le genévrier de Raasay cueilli à la main. Triplement distillé le nectar où genévrier, racine de rhubarbe, zeste de citron, zeste d'orange, graines de coriande, angélique, réglisse, iris, poivre cubède est très rafraîchissant, piquant. Il résume bien le caractère et l'impressionnante variété géologique de l'île des Hébrides.
Nez : Frais,  puis s'ouvre sur les agrumes et la rhubarbe, avec le genièvre en toile de fond.
Bouche : L'orange et la rhubarbe dominent.
Finale : Nette sur les zestes d'agrumes.
Mixologie
L'ÎLE DE RAASAY PERFECT SERVE G&T : 50ml Isle of Raasay Gin | Eau tonique Fever-Tree | Tranche de peau d'orange | Glace.
L'ÎLE DE RAASAY MARTINI : 50ml Isle of Raasay Gin | 12.5ml Vermouth Lillet | Torsade de Zeste d'Orange | Glace.
L'ÎLE DE RAASAY SUNSET SPRITZ : 50ml Isle of Raasay Gin | 25 ml Marlborough Sauvignon Blanc | 10 ml de jus de citron frais | Limonade rose | Bande de zeste de citron | Glace.
LA MARQUE
L'île de Raasay située entre l'île de Skye et la côte Nord-ouest écossaise est seulement peuplée de 120 habitants, ayant vu naître en 2017 la toute première distillerie légale de l'île.
La distillerie Raasay lance donc son premier embouteillage en 2020, avec son single Malt Inaugural release, avec une capacité de production limitée à 188 000 litres d'alcool pur par an, et ses alambics de 5000 et 3600 litres.
Cette distillerie, déjà tournée vers l'avenir, s'est rapprochée d'un agriculteur local, ayant pour projet de faire pousser de l'orge sur l'île, ce qui sera une première, dans le but de lancer en 2021, son cœur de gamme …
De très belles histoires et de magnifiques flacons « collectors », sont à venir.

Data sheet
Pays

Scotland

Région

Islay

Marques

Isle of Raasay

Type

Gin

Maison de Négoce

Embouteilleur Officiel

Volume

70cl

Degré

46%

Packaging

Etui