 
OLD BROTHERS Rhum Savanna White High Ester 68.8 %
Old Brothers Rum Savanna White High Ester is a rum made from local molasses from the Savanna distillery on the island of Réunion, fermented with endemic yeasts for 6 days. It has been reduced slightly to bring it down to 68.8%.
This is a limited series of 750 bottles. 
THE BRAND
Old Brothers is a story of friendship that began in October 2004 when Anthony and Julien enlisted in the Army and traveled the world (Kosovo, Lebanon, Ivory Coast, Macedonia, Afghanistan). As seasoned travelers, they decided, out of a shared passion for spirits, to launch an independent bottling company. With the aim of visiting distilleries around the world and bringing back the finest expressions of the art of distillation. The brand Old Brothers was created in 2017 in order to produce exceptional, authentic spirits.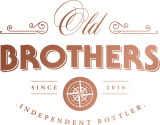 Data sheet
Pays

Marques

Type

Rhum

Maison de Négoce

Volume

50cl

Degré

Packaging

Sans