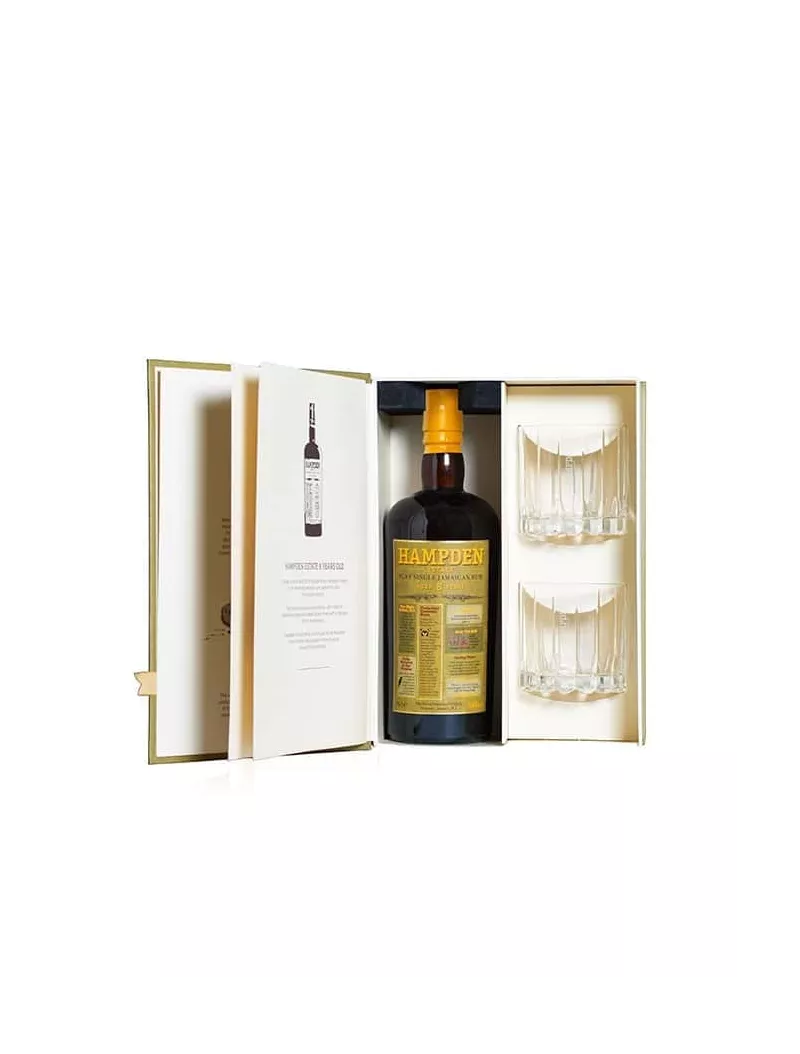  
HAMPDEN 8 Year - Gift Box 2 Glasses 46%
Hampden 8 year is a rum aged in the purest tradition of Jamaican single rums. Its phenolic side will surprise at first sight but it will be quickly counterbalanced by its fruity and spicy character in order to seduce lovers of molasses rums. This rum is aged for 8 years in a tropical climate, which is equivalent to 25 years of aging in a temperate European climate. 
The book box is composed of 2 glasses from the famous Austrian crystal factory Riedel. In limited series. 
THE BRAND
The Hampden Estate company has been around for 275 years, it was founded in 1753 in Jamaica and is considered one of the best distilleries in the world. Jamaican Hampden rums are very aromatic and use ancestral manufacturing processes. They offer a real taste experience. The Hampden Distillery produces high ester rums using knowledge passed down from generation to generation for over a century. Hampden makes a variety of rums with esters levels ranging from 50 to 1600. The higher the ester range, the more intense the rum bouquet. Their rums are also used for blending other rums around the world.

Data sheet
Pays

Caribbean

Région

Jamaïque

Marques

HAMPDEN

Type

Rhum

Sous-type

Rhum Traditionnel

Distillerie

HAMPDEN

Maison de Négoce

Vélier

Volume

70cl

Degré

46%

Packaging

Coffret

Prix

De 40 € à 80 €