 
TALISKER Distillers - Edition 2021 - 45,8%
Talisker Distillers Edition 2021 is a single malt from the Isle of Skye, exhaling deep notes of iodine and spices, Perfected over time, this unique way of ageing is influenced but the sea air, and produces woody and spicy aromas. One of the best seated whiskies.
This edition has been matured for at least 10 years in oak barrels. It is a Single Malt with a spicy, iodized and peaty character. On the palate, it tastes intensely peaty with a touch of sea salt, distinctive of the only distillery on the Isle of Skye.
2021 Edition.
Nose : Smoky peaty aroma as well as a hint of iodine and citrus sweetness.
Palate : Dried fruits, a touch of smokiness, strong aromas of malt. Peppery at the back of the mouth.
Finish : Smooth, warm and peppery.
THE BRAND
The MacAskill brothers founded the Talisker distillery in 1830, located on the northwest side of the Isle of Skye, it is the oldest of the two distilleries situated on the island. The Isle of Skye is the most northerly island in the Inner Hebrides, an area little protected from the storms of the Atlantic Ocean. 
Talisker is the only single malt made on the shores of Loch Harport and its distillery is one of the most famous in the world. Its soft and peaty water comes not from streams or rivers, but from the 21 underground springs of nearby Hawk Hill. 
Talisker whiskies are greatly imbued with their origin and history. Their smell and taste instantly connects you with the wild environment in which they were produced.
The single malt, produced using traditional methods, has an easily-identifiable, oily character that comes from slow cooling after distillation. Talisker whiskies are powerful and complex.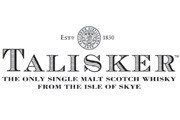 Data sheet
Pays

Scotland

Région

Skye

Marques

TALISKER

Type

Whisky

Sous-type

Single Malt

Distillerie

TALISKER

Maison de Négoce

Embouteilleur Officiel

Tourbé

Légèrement Tourbé

Volume

70cl

Degré

45.8%

Packaging

Etui

Prix

De 40 € à 80 €
You might also like
monwhiskyfr
TALISKER 10 year 45.8%
This inimitable malt, marked by its exceptional terroir, is often counted among the greatest...