 
Port Charlotte 2012 SC.01 55,2%
Port Charlotte SC.01 2012 est un whisky très tourbé (40 ppm), vieilli 9 ans dans une combinaison de Sherry Butts et de fûts de vins de Sauternes.
La récolte 2011 a été élevée par sept de leurs partenaires agriculteurs, se situant tous dans un rayon de 16 kilomètres autour de distillerie Bruichladdich, et, pour la première fois dans cette série, ce whisky contient 100 % d'orge cultivée à Islay.
Nez : Notes de tourbe terreuse accompagnées de notes d'étable à moutons. Notes de poivre noir, de cassonade et de bruyère brûlée.
Bouche : Équilibrée entre fumée tourbée et fruits mûrs. Puis des noix brûlées, du poivre noir, des notes de cuir et une pâtisserie sucrée à la vanille.
Finale : Très longue. La douceur fait peu à peu place au chocolat amer, à la salinité côtière et à la fumée terreuse.
THE BRAND
Bruichladdich is a whisky distillery built in 1881 by three brothers. It is located on the Isle of Islay on the west coast of Scotland. It is one of nine distilleries on the Isle Islay, but Bruichladdich is to date the only distillery to produce, age and bottle its malt on the island. Following its purchase in 2000, the Bruichladdich distillery was very carefully renovated, they managed to save almost all the original material dating from the 19th century. Its single malt is only very slightly peated, with distinct marine origins, an iodized scent and a palate of salty flavours. This distillery produces two specially peated versions : Port Charlotte and Octomore.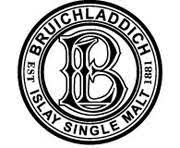 Data sheet
Pays

Scotland

Région

Islay

Marques

BRUICHLADDICH/ PORT CHARLOTTE

Type

Whisky

Sous-type

Single Malt

Maison de Négoce

Embouteilleur Officiel

Tourbé

Très tourbé

Volume

70cl

Degré

55,2%

Packaging

Tube

Prix

Plus de 120 €