 
Gin Mr Balthazar - Cocktail Set 45%
€48.75
VAT included
Save 25%
House Balthazar's Auvergne Gin is made from 13 locally sourced ingredients from certified organic market gardeners, and juniper berries from the Haute-Loire and Cantal. Using the processes of maceration, infusion, decoction in cereal alcohol, the ingredients then undergo the passage through a Holstein still, they are then re-distilled and non-chill filtered.
The box contains:
- a bottle of Gin Balthazar
- a serigraphed three-piece shaker
- a serigraphed duralex glass
- three packets of ingredients: vanilla / lemon balm, orange peel, juniper berries. 
Nose : Fresh, with notes of white fruit, a touch of chlorophile. 
Palate : Silky with vegetal notes. 
Finish : Long and fresh. 
THE BRAND
Olivier Perrier never wanted to produce imitations of Scottish, American or Irish whiskies. After years of research, nestled in Auvergne and particularly in the village of Hérisson, he created a distillery to produce whisky using cereals from the surrounding region, and barrels from the neighbouring forest, Tronçais. It is thanks to an obsession with quality and distinction, that the distillery developed a different manufacturing process, creating its own signature. 
David Faverot took over the distillery in 2013, so the distillery's story continues and includes many other spirits.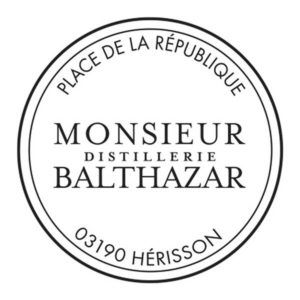 Data sheet
Pays

France

Région

Marques

Mr Balthazar

Type

Gin

Maison de Négoce

Embouteilleur Officiel

Volume

70cl

Degré

45%

Packaging

Coffret